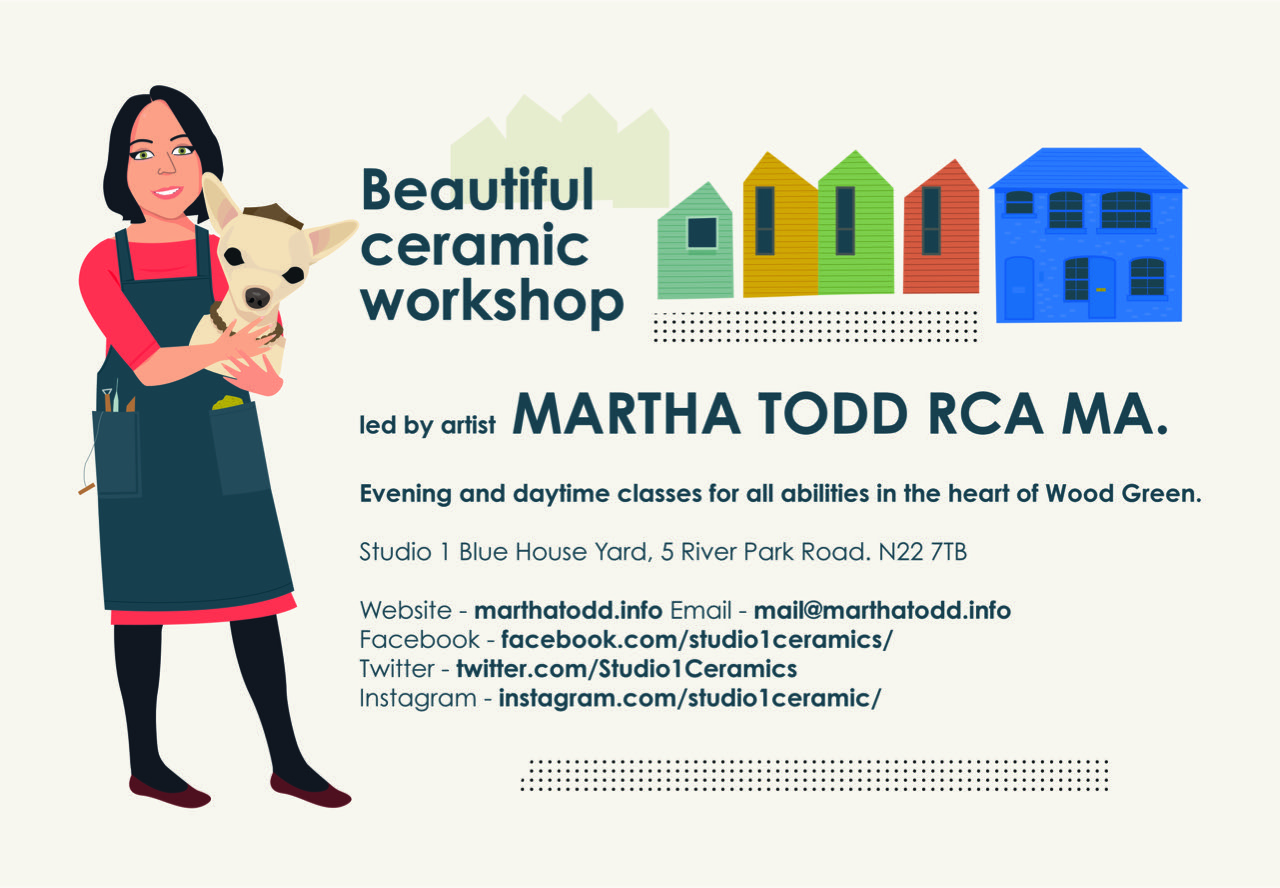 Studio1Ceramics
Studio1Ceramics is a workshop in the heart of Wood Green within Blue House Yard which is located a few minutes walk from Wood Green Station. The studio is a beautiful bright space in which I will be running a series of clay workshops for all levels and abilities. The classes will be small in size, ensuring that there is plenty of support for individual students. Prices include all materials and firings (which will include an initial bisque firing and a glaze firing).
Learn The Basics
Monday 27th November – 18th December
A four week course (two hours per session) for people who want to learn the possibilities of clay from scratch. Each two hour evening class will be spent learning varieties of hand building techniques as well as surface decorations and ways to interpret ideas into three dimensional forms. Prices include all materials and firings (which will include an initial bisque firing and a glaze firing).
£100 for 4 weeks
Taster Sessions
Thursday November 23rd and 30th, December 7th and 14th 7pm-9pm
Two hour taster sessions to give you a chance to come and make some exciting things with clay. The perfect opportunity to make some handmade Christmas presents and decorations, or you could just have a play! Prices include materials and two firings.
£25 per session
Christmas Making
Saturday 2nd, 9th and 16th December Drop in between 12pm and 4pm
A chance to come and decorate some Christmas baubles or make some of your own decorations for the tree. I will also be selling Christmas decorations so pop along for a minced pie and some festive making!
£10 per hour or £5 for half an hour making kids welcome!
Lunch with Clay
Fridays 12.30pm-2pm
A good way to get out of the office for a well needed creative break on a Friday! Come to my lunch time session for an hour and a half of playing with clay. You can learn the basics and develop your ideas into something exciting. Classes are bookable a week in advance, you can book week by week or block book sessions.
£20 per session
Cup Painting for all ages at Blue House Yard Saturday Markets
Between 12pm and 4pm every Saturday I will have the studio open for drop in cup painting. So do pop by!
Cups cost £15 each and this includes materials and glaze firing.
All classes are booked and paid in advance. As classes are small there will be a rolling waiting list once classes are sold out. Book early!
I have gift vouchers for classes too. Treat your loved ones to the joys of clay for Christmas! Taster session vouchers £25 and four week course vouchers £100
Contact me for details and bookings.