Toy dogs – A problem with the first world
Last summer I was awarded a fellowship to go to Penland School of Craft in North Carolina where I learnt new figurative hand building and surface techniques with clay. I was given time to consider my practice and gain creative inspiration from my surroundings and the people I met.
I created the first of a new collection. His name is General Chowder and is a large-scale bust of a Boston terrier sporting a rather uncomfortable looking 'Releaf Neck Rest' similar to the one I saw advertised in a copy of Sky Mall magazine on my internal flight on route to the craft school. This magazine amazed me. It was the first thing that made me laugh after an arduous 24-hour journey. Other features in this supplement included a dog chaise long, dog rain coat and a variety of other absurd items that could only exist in the first world where some people have nothing better to worry about than whether their toy breed Chihuahua has got sore paws or is vitamin b12 deficient.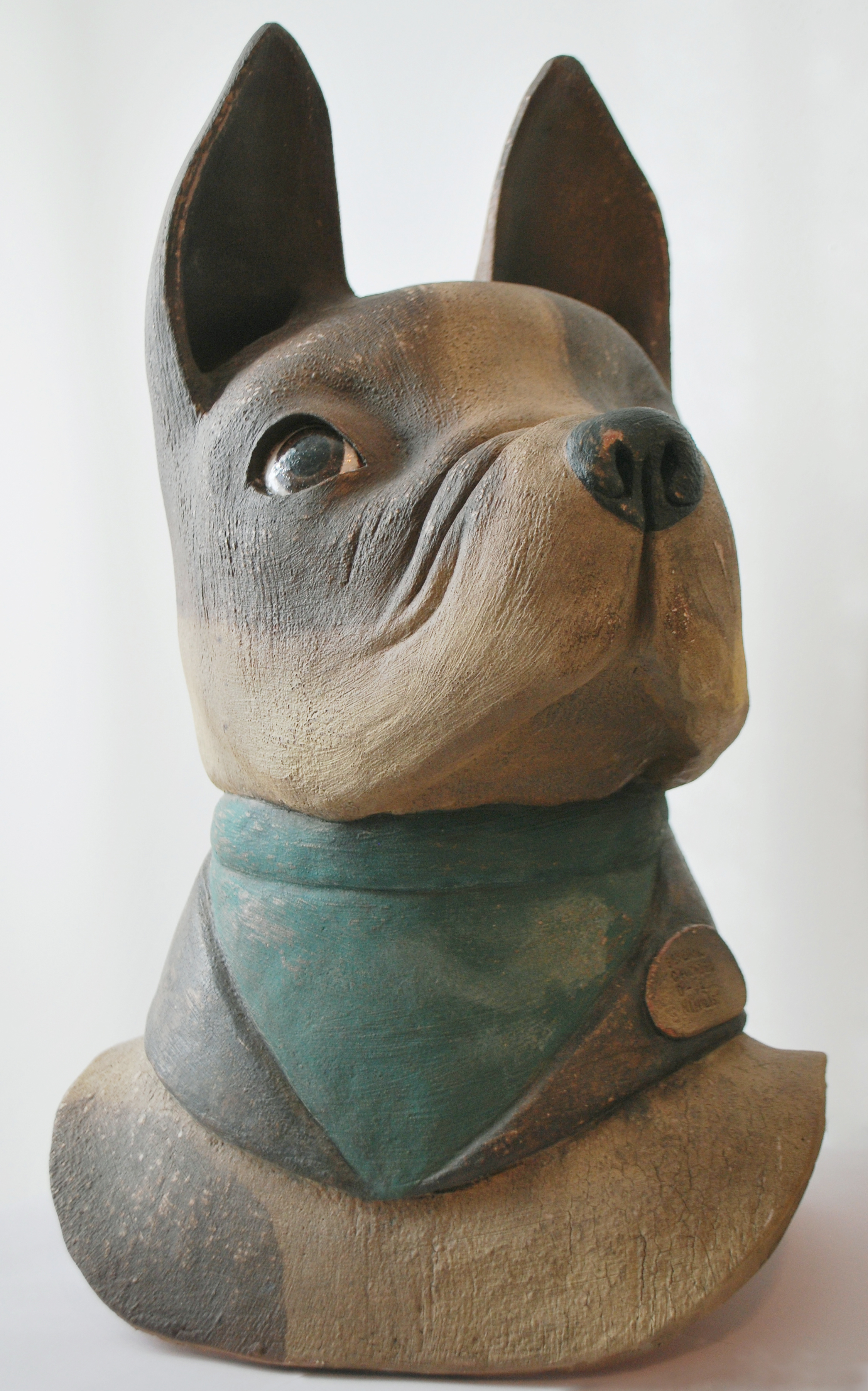 General Chowder, 2014
I began to consider this pet-pampering trend. After some research it came to light that much of the blame for this ever-increasing craze can be put on celebrity Paris Hilton with her clutch bag dwelling Chihuahua TInkerbell. Last year she also bought a Pomeranian that apparently can fit into a teacup for $13,000, she calls this poor ball of inevitable health problems Mr Amazing.
Back home at Studio Manifold, I created The Princess, she's a tiara and pearl necklace sporting Chihuahua based on a photograph of a similarly dressed 'woman's best friend' I found in the world of Google, one that was wearing a wedding dress and marrying a Dachshund in a top hat.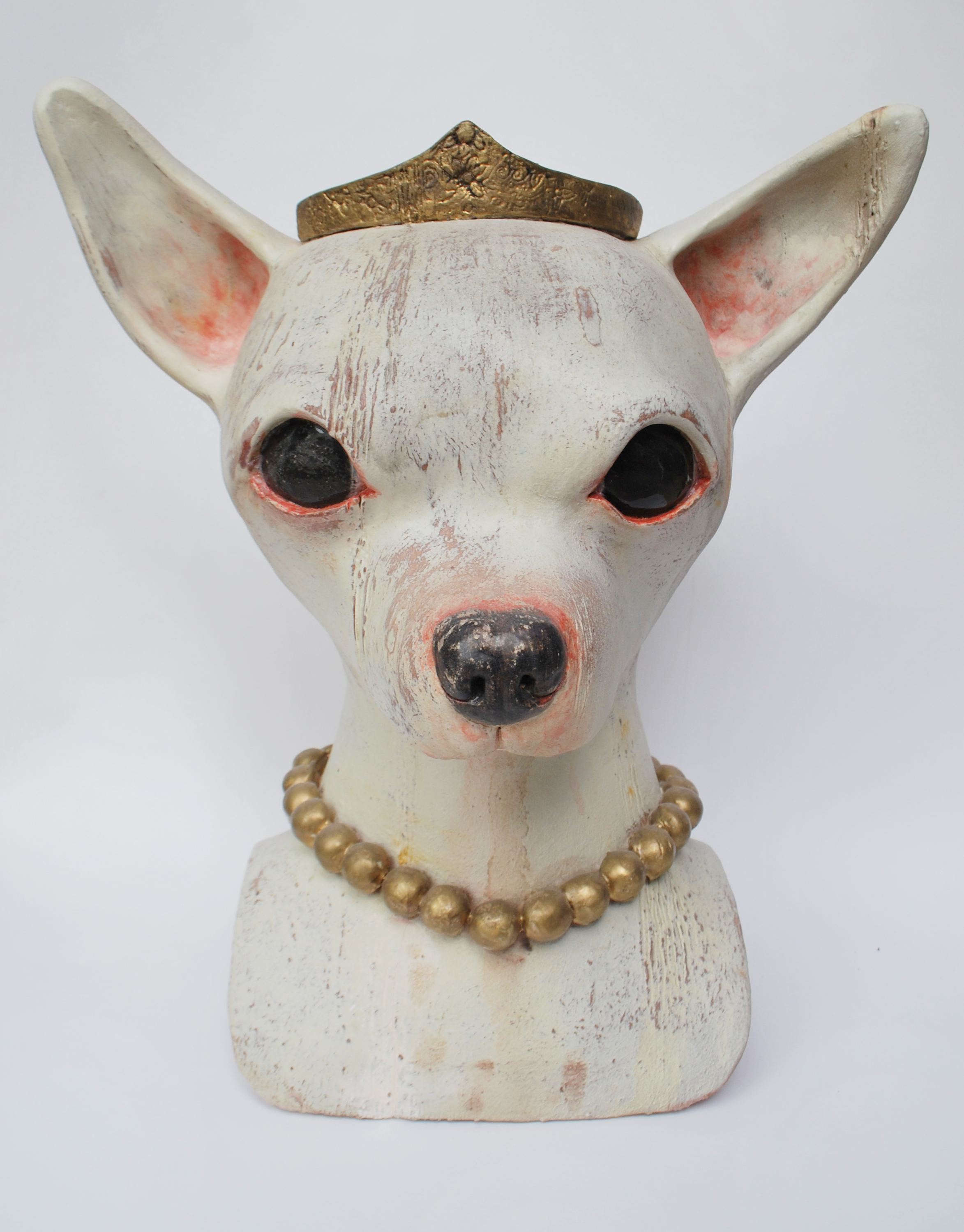 The Princess, 2015
My third dog portrait is a Pug in a Unicorn 'onesie' (taken from an actual photograph). The ridiculousness of this dog-dressing trend is ever increasing.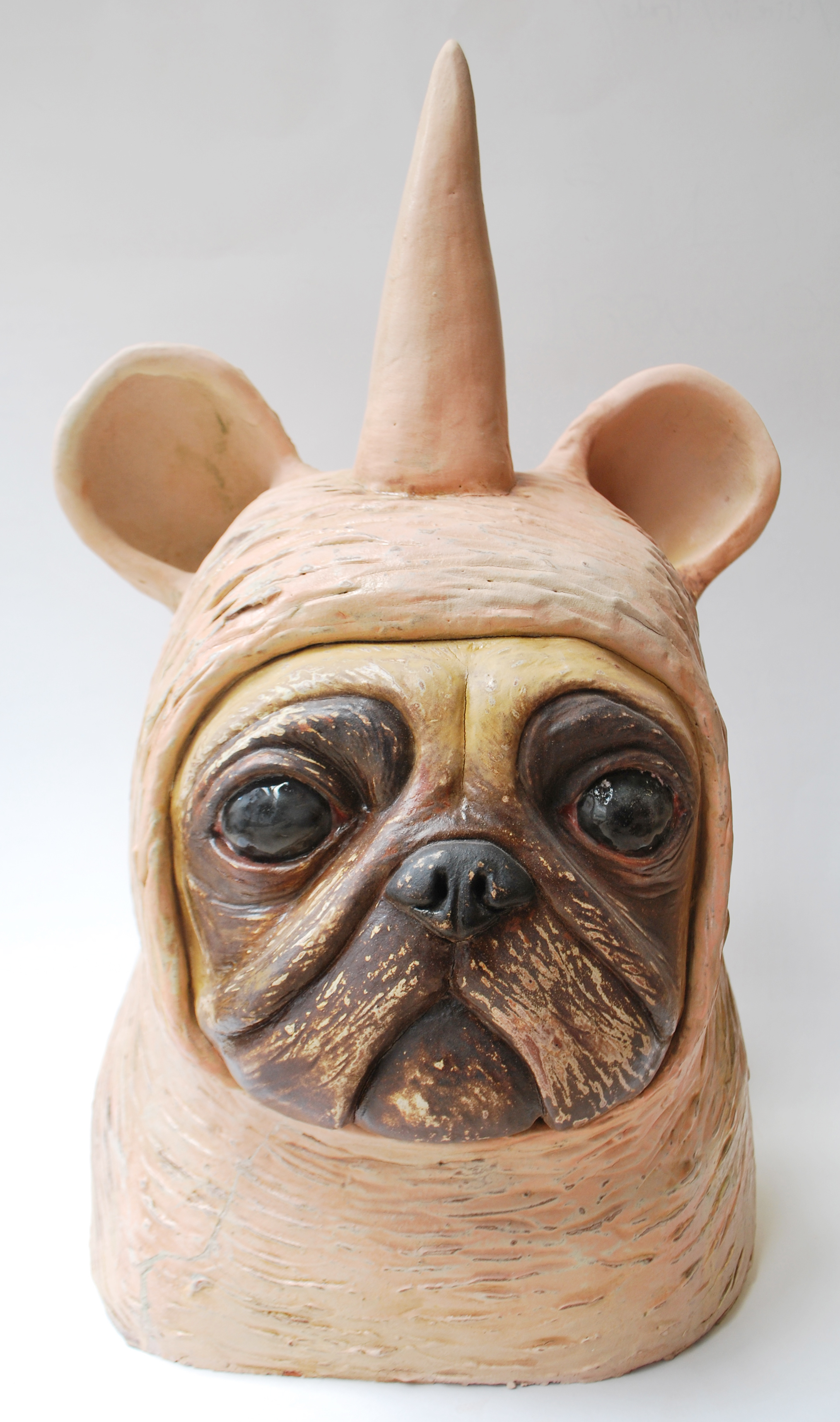 Shamed 2015
The pieces are coil built in grogged terracotta and are surface treated with engobe, slips and under-glazes. They are low fired at first and then heavily sanded and worked on further with washes, more under-glazes and glazes I want them to appear stoic and monumental; busts that have stood the test of time. The pieces are antique-like almost like rusty metal or wood, an uncovered relic to be displayed as if in a museum of the future. I can't help but think these pets have some sort of authority complex after being carried around in handbags, like a sedan chair for dogs.
I am in the process of building more to add to the collection, and will update as the family grows.